Today was another day filled with new sites and old faces. I headed in to the Jesuit school Clongowes Wood, in Co. Kildare.
I primarily came to catch up with an old colleague and friend of mine who worked at my school in Sydney for 12 months back in '07-'08. His name is Tom: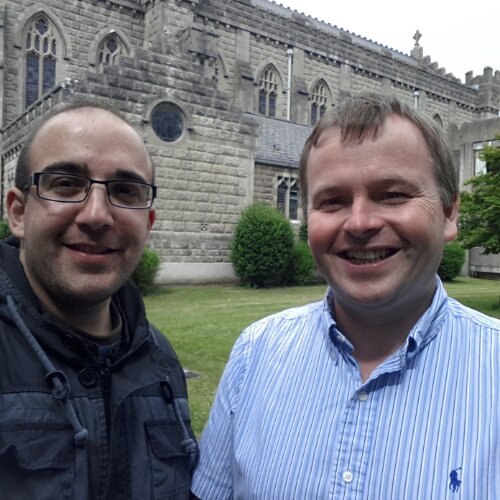 But I also came to see the school. I've got to say, I fell in love with the place instantly. I see myself working here in a few years' time…
The entrance to the school puts you on a road that is a Roman mile long, at the end of which the main building could be spotted. And what a building!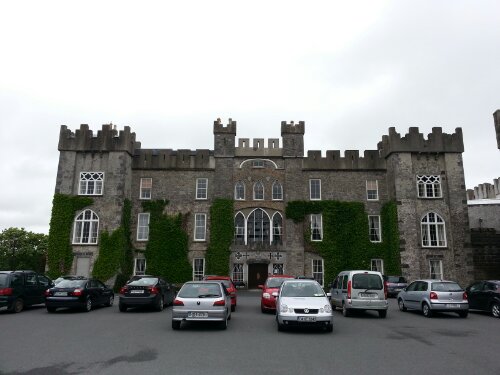 Upon arriving I had to wait around for 15 minutes as I had no way to contact Tom and let him know I had arrived early. I found myself in the People's Chapel which, I discovered later on, holds much historic value.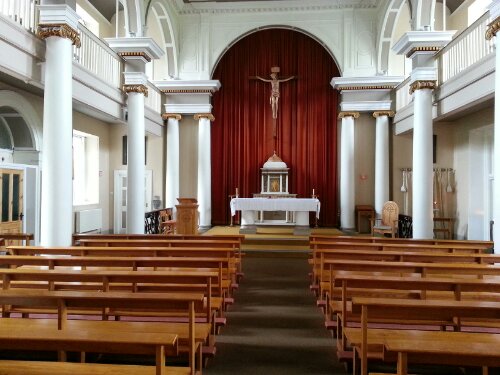 James Joyce attended Clongowes and parts of his experiences here are described in his book, A Portrait of the Artist as a Young Man. Tom showed parts of the school relevant to the text.
Clongowes also has another stunning Chapel which Tom opened up to let me see:
As I was taken through the buildings and shown the classrooms and dorms, my desire to work here intensified. For years I've wanted to work in Ireland, and Clongowes always seemed like the ideal place, even though I had never been to see it. But today just solidified the notion in my mind that this is the next school for me. We will see in time.
So,  earlier in the day I was brought to a little cottage a couple of hundred metres from the main building, my accommodation for the evening. It's isolated and a little creepy, but also pretty cosy.
I'm here now writing this entry on my phone at close to 11pm, and the sun has only recently gone down. I'm still struggling with these long daylight hours…….
But I want to backtrack a tiny bit. Besides seeing all the awesome history and physical make up of the college, the most awesome part of today was being taken to a real "old world" pub.
Tom took me to lunch which was really nice, and then drove me around Clane. The most depressing sites awaited me – the property crash here has resulted in a crumbling economy in Ireland and this is most visible in the many abandoned and unfinished homes around.
Some absolutely stunning real estate built in the last 5 years just sitting there with no one looking after them, and stories of people being locked into a mortgage for a house worth less than half of what they had originally paid. And, of course, the banks get the big bail outs while the people they seduced are stuck with the debt.
But anyway, Tom continued the tour and took me to an amazing little pub (Connolly's) that's been around for over 200 years and which is still owned & run by the same family! I stepped into the pub and just felt 200 years of history in the air – it was absolutely surreal!
Tom explained this pub was great for winding down during term time, sitting at the fireplace with the rain pelting down outside, talking and relaxing. The place was unbelievably cosy and I could visualise the atmosphere in the colder months.
So yeah, a great day catching up with an old friend and a growing desire to live and work here. Amazing that Clongowes is less than 15km away from Maynooth, in the same County, and when I was here in 2003 I had no idea the place existed.
Tomorrow I'll be heading back to Dublin for a couple of days. Not much really planned there, so I may not update til I go to Germany on Wednesday.
But, who knows what I'll get up to before then…