My final transient night in Dublin on Wednesday was awesome.
I went to watch Riverdance in the Gaity Theatre. Even though I saw it in Sydney a couple of years ago it was just as enjoyable.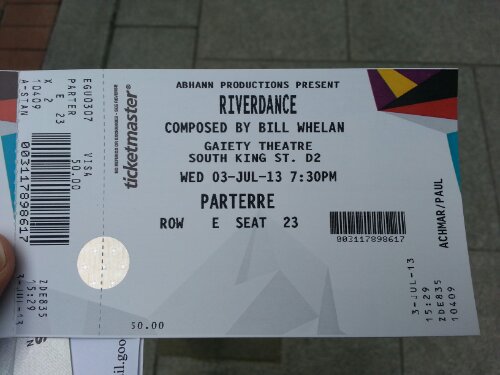 The train, ferry and bus rides over from Stonehurst were pleasant but really long. I was in the road for about 5 hours in total.
At Holyhead point I was so happy to see and hear the Welsh language in action. Great accents with completely incomprehensible signage…
So yesterday morning, when I got off the train at Limerick, I was inspired. I wrote a poem, a Limerick in fact:
There once was a man from Sydney,
Who did not like to eat kidney,
He hopped on a train
Again and again
And saw many an Irish chimney.
I've wanted to visit the town for years – the Cranberries originally come from there. But I didn't plan it so a view from a distance was gonna have to do.
The bus ride to Doolin showed me the best scenery yet; beautiful lush green hillsides.
So I'm here now in Doolin and had a great evening lady night. I'll update this blog tomorrow about my experiences in this, my new favourite holiday destination.