I spent two nights visiting ex student Ben Powell this week. He gave me the grand tour of Stonyhurst, another Jesuit school with whom we are connected.
It was a great old building, once again extremely old, and this one was filled with about a dozen little chapels within its walls. Some are extremely extravagant, others understated.
Also contained within the are a huge number of historical artifacts, among them religious relics of great importance to the history of Catholicism in England. They even have the mummified body of a child from 2300 years ago, found by a Jesuit in the 1800s and brought back to Stonyhurst.
The school very strongly identifies with the story of Edmund Campion, the patron of my House. They celebrate his feast with greater fervor than even Ignatius'. Imagine once again my excitement, then, when I learned they have in their possession the rope used by the Church of England to hang him all those years ago: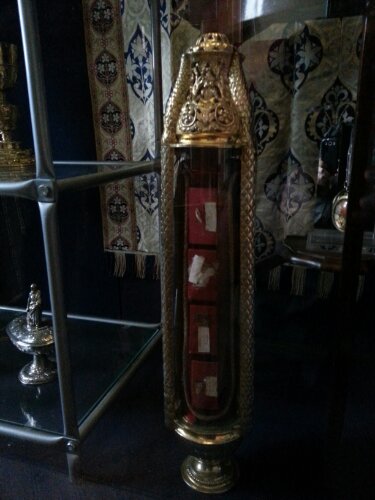 So yes, a wonderful school with so much history, but also one that really needs revitalising. Understandably they are affected by the poor economy and the buildings look pretty run down. But I was still very much impressed.
Beyond the school tour, Ben drove me around some visiting villages and you can imagine me excitement when I found this little restaurant/pub:
The "summer" weather was pretty average…
…so we grabbed some take away curry last night and ate indoors. Ben and I had dinner great chats and it's strange but very rewarding to see our old boys turn out to be such great men.
So, this morning we said our temporary goodbyes and I hopped on a train down to Holyhead port here in Wales. The Welsh countryside matched the Scottish and English with its beauty:
In and hour or so I'll board a ferry in to Dublin where, tonight, I'll watch Riverdance and tomorrow head in to Doolin on the west coast for a couple of nights.
That's all for now, folks!