Here I am sitting in a plane to Dusseldorf and reflecting on my last few days in Ireland.
Fair to say, it was spent mostly catching up with some Riverview connections, starting with Tom Caroll in Clongowes.
When I arrived in Dublin on the Monday I dropped my bag off at the hostel and walked up to a great cafe-bar named Beeckers St Cafe and Bar. There I caught up with two View boys on gap year at Belvedere College Dublin. One I knew very well through my work in the boarding house, the other I spent 12 days with in Cambodia in Immersion.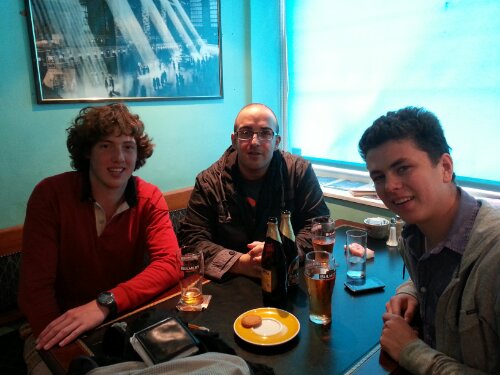 Even though I was adamant that I would not meet up with any old boys, I decided to do it. And it was a great afternoon!
We shared a few drinks and stories and they told me all about their gap year so far. I think that, because the nature of the student-teacher relationship is real and natural, there really is no awkwardness but instead a genuine interest in the other. But I dunno what I'm writing now – we're in turbulence and it's difficult writing this on a phone. 
When I returned to the hostel I was a little tipsy. Along the way I passed what I think to be a Jesuit church or building of some sort:
Anyway, after a very disrupted sleep (our hostel room was right above the street and I kept waking up to drunken Irish people arguing and sirens going off) we decided to visit the coast.
Howth is the suburb where, apparently, Bono and other upper-class Dubliners reside.
As I sat enjoying a coffee there I was put in mind of Mosman. There were quite a few people walking dogs and, in the current economic state of the country, surely only the richest could afford to own a dog and take it for walks in the middle of the work day.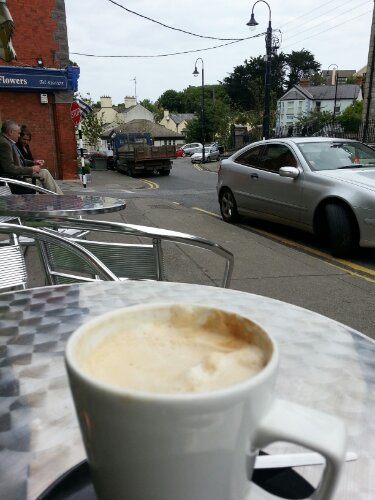 Anywho, Nicola and I decided to go to the beach. It was so depressing – grey clouds and no sand.
We walked around and found yet another church inside which there was a Eucharistic adoration taking place:
Following this, and yet again, we found another cemetery which was built in the ruins of an ancient church:
All in all, Howth was a cute little part of town. On the train to and from Howth we came across this name:
Later that arvo we watched Before Midnight, a surprisingly great film!….
And so, the last fun thing I did in Dublin was to catch up with young Gavin, a kid from Clongowes who came over to View last year for a term and ended up in my House. Great kid, and pretty level headed for a 17 year old. We had a quick coffee at Bewley's and caught up on the last six months.
He spoke very fondly of his time in Sydney and it was nice to connect with him over another commonality – Clongowes. He really wishes there was a House system there like the one at View and it comforts me to know that being in Campion while in Sydney was a help for him to settle in so quickly and smoothly.
In a typically Irish way, he paid for the coffee when I went to the loo. I swear they're just like the Lebs by way of hospitality and many other little quirks, and I really like that about the country and culture.
Gavin then gave me another gift: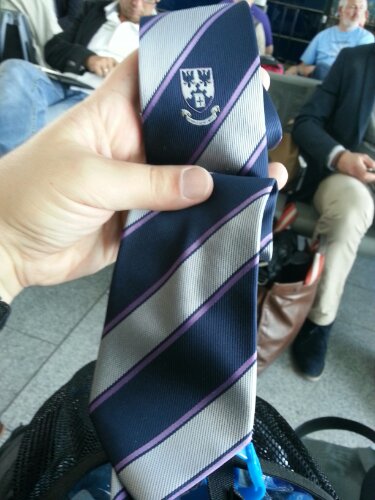 One of his own school uniform ties. This goes back to Sydney where I gifted him a Campion House tie and cufflinks when he was leaving and, of course, he witnessed first hand all the different ties I wear each day to work.
Anyway, what excites me about living? Human relationships that are meaningful and lasting.
This was my primary purpose for taking this holiday, to connect with old friends and not-so-old not-quite-friends with whom I am connected. And for that alone, truly, this is turning out to be such a great holiday!
Okay, I'll wrap this up here. Next entry will be from Germany somewhere! I'll be there till Saturday before popping off to Scotland.
Toodles…
P.S. I'm not quite done with Ireland on this trip – in one week I'll be back, on my own, to visit Doolin on the west coast of Clare for two nights. There I will say goodbye to my much loved jacket,  Peter… At least, that's the plan. Let's see if I can bring myself to do it.